When I go to the gym to workout I talk to a lot of people and lately I've been hearing so many of these folks complaining about having to workout. When I ask them if they enjoy training or have fun during their workouts most people look at me like I have three heads.
During the honeymoon phase of working out many people enjoy the idea of getting themselves into shape but really don't love exercising. Then once the sameness of their training routine sets in, people start to lose interest in their program and working out becomes all work and little, if any, play.
People get bored with their workouts because, quite frankly, they don' t know what they are doing and most trainers, especially in big box gym, haven't a clue either. Machine-based exercise programs are the most boring kind of activity imaginable, and since most people and personal trainers gravitate to this style of training, it's no mystery people get bored with their routines.
If you are one of the denizens of the gym who get on a treadmill, tune in to your iPod and hunker down for a long run or walk you are no doubt bored to tears at some point. You also aren't getting too much bang for your exercise buck/effort either, but that's a different story. It doesn't matter which machine you use, they are all boring and do not come close to providing a challenge.
This is why people think exercise is boring and why many folks bail on their regular exercise routines after a relatively short period of time. The prescription of treadmill (or any other piece of cardio equipment), leg press, leg extension, leg curl, calf raise, pull downs, endless biceps and triceps work and all kinds of seated and lying exercises results in a boring, ineffective workout program.
The cure for a boring workout routine is to find a personal trainer – I use the term "fitness development coach" – who knows how to design and implement a workout using ground-based, compound movements. This kind of fitness professional will teach you how to move properly¸ will improve flexibility, stability and core strength. Because these kinds of workouts are challenging they are effective and fun.
We don't go through life seated in a machine and unless you're involved in crew there aren't any sports that are played lying down, so you shouldn't exercise this way. And the word routine should be limited to describing the days and times you workout, and not be a reflection of doing the same handful of exercise programs over and over.
I have just come back from the finest professional educational event of my 20+ year career.  I was fortunate enough to be accepted into Vern Gambetta's GAIN Apprentorship/Mentorship program earlier this year and last week ventured to Florida a 6-days extravaganza; to say it was a learning experience would be a massive understatement.
There is no way the events of GAIN can be summed up in a single post. At GAIN there were less than 20 new attendees, about a dozen returnees and 10 fantastic faculty members. The days were long but exhilarating. I was honored to be among Athletic Development Coaches, Physical Therapists and Athletic Trainers that work on the international, professional, collegiate and Olympic stages. I learned from, and with, some of the best men and women in the business, and will pass on this knowledge to you in the coming weeks and months. My clients have already started to reap the benefits of my GAIN experience.
As best I can, I will help you to learn how important it is to follow the functional path on your way to living a healthier life.  The info, videos and pictures on HealthAndFitnessAdvice.com, even on old posts, will reflect my desire to offer the best functional training guidance possible.
For years I, and many of my colleagues, have been disappointed with the term personal trainer.  Over 20 years ago when I got started in the business the term meant something more than it does today. Actually, the term really doesn't mean anything.
Inspired by the events of GAIN, I have decided from now on to use the term Fitness Development Coach rather than Personal Trainer.  It's time for a change and frankly, someone who is doing their job correctly is developing their clients' fitness through coaching. I haven't called myself a personal trainer for more years than I can remember, except on the web where the term "personal trainer" gets eyeballs to the site.  And just as Strength and Conditioning is being replaced by Athletic Development, Fitness Development Coach is replacing Personal Trainer.
Even though I've been following the functional path for the better part of 2 decades, going to GAIN was an invigorating experience and I'm excited to bring to you more of the things that will make your workouts better.
Good personal trainers don't grow on trees and aren't bodybuilders.  There are a lot of qualified and experienced fitness professionals out here looking to help people.  You all just need to know what you're looking for and how to find them.  So here's my take on what people should look for when hiring a personal trainer…
Finding a qualified fitness professional to whip you into shape is just a few mouse clicks away if you visit the National Strength and Conditioning Association's (NSCA) web site.  The NSCA is the worldwide authority on strength and conditioning and is the first fitness-related certifying agency to be accredited by the National Commission for Certifying Agencies.
The NSCA offers the gold standard certifications in the field for fitness professionals.  Along with the NSCA, the American College of Sports Medicine (ACSM) is the other certifying organization that offers a meaningful certification.  Traditionally the ACSM was involved with professionals working in clinical settings, but in recent years, they have broadened their certification offerings to include those working with people from healthy populations.  The ACSM employs an extremely high standard for all of their certifications.
I built my business according to the guidelines developed by the NSCA with regard to staffing, philosophy and every other meaningful aspect of the business and have seen firsthand how the NSCA's principles are based in legit science and, as a result, produce rock solid results for our clients.  My partners and I and all of our employees hold the NSCA's highest certification – the Certified Strength and Conditioning Specialist (CSCS) – and we all train our clients according to NSCA guidelines.
There are many factors that need to be considered before you hire a personal trainer, but I like to start with the certification.  Your personal trainer should hold an NSCA certification – either the Certified Personal Trainer or CSCS designation.  If you cannot find an NSCA certified trainer look for a trainer with the ACSM designation.  And remember membership in these organizations is not the same as actually being certified.  A lot of trainers who aren't certified will advertise that they are members of these organizations with the hope that potential clients will be satisfied that membership is indicative of some kind of proficiency in the field.  A membership in these organizations can be obtained by anyone willing to pay the dues.
A serious fitness professional should be willing and able to make the commitment to earn a valid certification.  The cost is more than reasonable given the importance the certification holds, and the test truly prepares candidates for the realities and responsibilities of the job. In addition to the certification, there are a variety of other important factors such as college education, experience and references.
Every trainer should be willing to provide you with their resume that includes their educational background, certification status and certificate number, years of experience and a list of at least five clients that you can speak with.  You should also ask the prospective trainer what their training philosophy is and what their athletic background is.  My advice is to stay away from bodybuilders and distance runners.  Also, ask the trainer if their workouts are machine based or ground based, and if they use single joint or multi-joint exercises.
Training sessions should involve very few, if any machines.  With the exception of the pull down machine and the seated row machine, you should spend all of your training time on your feet and not sitting or lying on equipment. You also, don't need to have your trainer watch you spend long stretches of time on cardiovascular machines.  This you can do on your own.  Run from anyone who shows an unwillingness to share any of this info with you.
There are many factors that go into making a decision about what trainer is right for you. But if you look for a valid certification and know answers to some key questions you will have a much better shot at hiring somebody who knows what they are doing.
Functional training is the most effective method of training that strength coaches and personal trainers can employ with all clients, athletes and non-athletes alike.
The most natural – and obvious – way to train for an activity is to perform the activity itself.  Using a sport as an example, playing lacrosse is functional training/sports specific training in its purest form.  All other methods of functional training as it relates to lacrosse, or any other sport, result from the sport.
Athletes who train in a functional environment will be better able to handle the rigors of their sport.  Distance runners must run long distances; baseball players need to sprint at full effort in different directions and be able to do so from a variety of starting positions and running speeds; basketball players must be able to sprint, jump, recover and repeat, and so on.
Football players should not be going on long jogs and marathon runners don't need to spend a lot of time running 20-yard sprints, shuttle runs or performing tackling drills.  It's ridiculous to have a marathon runner hit a blocking sled, but it's just as ridiculous for a football athlete to perform distance runs.
Of course there are times where athletes can cross-train and have fun trying methods of training that aren't a major component of their competitive lives, but certainly not a lot of time should be spent on this kind of training, and it isn't done in preparation for competition.  Members of the regular gym-going public can benefit from adopting the methods of preparation used by athletes, as well.
While the strength coach/personal trainer should strive to make the training environment as functional as possible – for all clients – the goal should NOT be to try to replicate in the gym the exact conditions encountered during competition.  For instance, working rotational movements in the gym using lighter weights is a good idea for baseball and lacrosse players, but trying to recreate the swing of a bat or shooting motion using a heavy implement is bad.  Athletes get enough skill work during their sport – the purest form of functional training – and don't need to mimic these actions in the gym.
Functional training should be a major part of the training programs of athletes and non-athletes alike.
On my brother site, PersonalTrainerCoach.com, I publish a regular feature titled, "5 Questions," that follows a simple format; I ask an accomplished fitness professional 5 questions and they give me 5 answers.
Fitness consumers – that's you, and me when I'm not training clients – as well as fitness professionals – personal trainers, strength coaches, physical therapists and athletic trainers – can learn a lot by listening to the people who are successful in the fitness field.  We all can learn a lot about ourselves by hearing from 5-star fitness professionals.
More importantly, fitness consumers can learn a lot about fitness by hearing from the people who are the real leaders in the field.
The first feature I posted at PersonalTrainerCoach.com features the best high school athletic trainer in the state of New Jersey, Joe Przytula ("Joe P").
Joe P is a National Athletic Trainer Association (NATA) certified athletic trainer, a National Strength and Conditioning Association Certified Strength and Conditioning Specialist (CSCS) and is certified as a massage therapist in New Jersey.  Additionally, Joe P is a faculty member at Vern Gambetta's prestigious Gambetta Athletic Improvement Network (GAIN) and has completed a fellowship with the influential Gary Gray Institute.
To pay the bills Joe P is the Head Athletic Trainer at Elizabeth (NJ) High School, the largest high schools in the state and one of the largest high schools in the country, and is recognized as one of the finest ATs in the state.  With a career that spans over 25 years, Joe P has been an invaluable resource for strength coaches, sport coaches and other athletic trainers, and has helped countless athletes prevent, recover and rehabilitate from a wide-variety of injuries.
Joe also publishes a blog titled, "Dedicated to the High School Athletic Trainer," where he discusses his philosophy, shares his experiences as an AT and offers his views on training.  Despite the title of the blog, all fitness professionals, and fitness consumers, can learn from what Joe P has to say, as he represents the high-end of the profession, a level that all professionals should all aspire to occupy.
1) What was your reason for getting into, and how did you get into, the fitness business?
When I attended Rahway High, it was one of the only schools in New Jersey to have an athletic trainer on staff, albeit part time.  In the late 70's there were only two full time athletic trainers in NJ and even in professional sports, the typical AT was a guy with some type of first aid training who knew how to tape.
I was always interested in physical therapy, but at that time it was a female dominated profession; not a field that guys went into.  So, I actually started out as a business major.  However, the AT at Montclair State University (NJ) happened to be president of the newly formed ATSNJ (Athletic Trainers Society of NJ).  On my way over to the school weight room to workout I would pass the training room, and I liked what I saw.  It definitely wasn't physical therapy – no curtains, no one hooked up to electrical modalities.  A lot of action, everyone up and moving and a lot of hands on stuff.  In my junior year I made the switch, took a few summer courses and went to an extra year of school.
2) How do you feel about the way fitness/a healthy lifestyle is portrayed in the media?
The mainstream fitness business promotes a lot of disinformation and is driven by marketing more than sound pedagogy and research.  Performance enhancing drugs have clouded the issue even further.  Here in the U.S. there really is no long-term plan for athletic development like they have in Europe or Australia.  It's always some type of quick fix.  The influx of foreign players into U.S. professional sports is proof we are on the wrong track.
3) What is your training philosophy?
I use chain reaction biomechanics, supplemented with manual therapy to prevent/correct movement dysfunction.  Whenever possible (which is almost always) get clients and patients up on their feet and moving!  My mantra is, "Rehab the athlete, not the injury!"
4) How has the fitness business changed since you first started training clients/working with patients?
High school athletic training becomes more and more like remedial physical education, as the years have gone by. The information age has made a sound physical education program more important than ever. The sports specificity movement is a joke.  Let's replace the term strength and conditioning with athletic development.
5) What's the biggest problem/most common hurdle that you have to help your clients deal with? Nutrition issues, motivation issues, commitment issues, something else?
Looking for a quick fix, a supplement, pill, or some type of "system" that will heal an injury faster.  Let's take "shin splints" for example.  There really is no such thing.  It is a stress reaction in the bone.  The latest rage is running to the doctor for a Fosimax prescription to build up the bone density, so the athlete can do more of the wrong thing.  People need to be taught that the solution is a lot more complex than that.  It's an matter of proper strengthening of the pelvic musculature to make the lower extremity more shock absorbent, proper training progression, good cycling of work/rest ratios, getting enough bio-available calcium/vitamin D in the diet etc.
If your trainer takes after the trainers on the reality show, "The Biggest Loser" it's time to get a new trainer.  Rather than tell you – yet again – about the problems with the trainers on the show, I'll let the following clip do most of the work.
Watch the clip and put yourself in the position of the client; would you want to be treated in this manner by any employee of yours?  Never forget that as personal trainers we are your employees, we work for you.
The personal trainers on the show, "The Biggest Loser" have won the fitness lottery, but have decided not to use their platform to represent the high end of the profession.  They disrespect their clients and the fitness profession with just about everything that they do on the show and have created a class of health and fitness victims.
I was fortunate to learn the right way to do things from some of the people who were responsible for personal training becoming a mainstream profession.  Back in the late 1980s I was taught how to be a personal trainer by the staff of New York City's Plus One Fitness Clinic. Training members of Manhattan's elite – show business, the financial business, the art and publishing world – we were taught that it was all about the client.  And it still is.
At some point over the past 20 years personal training became all about the personal trainer; in the mainstream the personality of the trainer became more important than the client.  There is no way that the antics of the personal trainers on the show, "The Biggest Loser" would have been tolerated by the clients or the management back in the day.
Your personal trainer doesn't know what he's doing if he treats you like you're on, "The Biggest Loser."
I've come to recognize plenty of telltale signs that a personal trainer isn't giving a client their best effort. If your trainer does not employ a wide-variety of routines, this is a sign that she doesn't know what she's doing.
Personal trainers can fall into many lazy habits and you can tell a lot about a trainer by the lack of variety they use in their workouts.  If your trainer has you do the same workouts over and over again, it's time to find another trainer. Whether they are lazy or uniformed, there's no excuse for personal trainers who don't vary training sessions.
The only thing that should be "routine" about your exercise routines is that they occur at the same time on the same days (and even that should change!).  If your trainer is giving you your money's worth they should never have you do the same workout routine; a good personal trainer knows that there is the possibility for infinite variety in workout design.
Regardless of what the goal is for a given workout, there's no reason that a trainer should always use the same exercises, in the same order, using the same weights, repetitions and amount of sets.  Even the warm-up periods should vary as dynamic flexibility exercises, calisthenics, jumping rope and other similar exercises can be combined to offer unlimited variety.
If your personal training sessions seem to be all be the same – doing the same exercises in the same order, or worse, the same machines in the same order – you aren't getting what you paid for.  If your personal trainer isn't providing you with an always changing, always evolving training experience, you should look for a new trainer.
Exercise is less effective when your workouts never change.  The body is great at adapting, and doing the same workouts all the time is one of the main reasons people experience training plateaus.  You can spend a lot of time in the gym and get minimal results when your training routine becomes routine.
Your personal trainer doesn't know what they're doing if they don't constantly change your workouts.
The International Journal of Sport Nutrition and Exercise Metabolism (IJSNEM) is a valuable resource for inquiring fitness consumers, as well as personal trainers and strength coaches.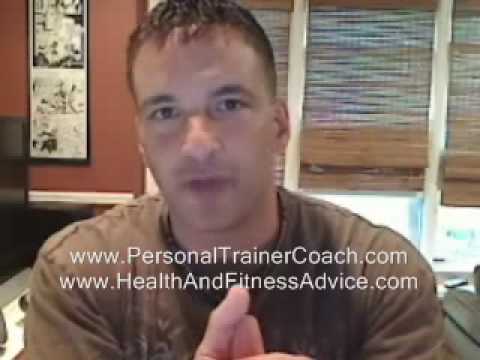 The IJSNEM is published by Human Kinetics and presents, "original scientific investigations and scholarly reviews offering new insights into sport nutrition and exercise metabolism, as well as articles focusing on the application of the principles of biochemistry, physiology, and nutrition to sport and exercise."
Now, a lot of science is included in the reviews and studies published in the IJSNEM, but for if you are interested in getting real, no-nonsense information check out the video review and visit the  Human Kinetics web site for more details.
There are plenty of telltale signs that a personal trainer isn't up to par. If your trainer has you using equipment for a majority of your sessions this is a sign that he doesn't know what he's doing (or she doesn't know what she's doing).
Personal trainers do all kinds of bad things and you can tell a lot about a trainer by the amount of equipment they use in a session. If your trainer puts you on machines for just about everything, it's an indication that you should find another trainer.
Regardless of fitness level, the majority of exercise should be done while standing. In the business we call them "ground-based, compound movements" (GBCM), and they are the most efficient and effective exercises that you can do.
Exercise in a machine does nothing to develop balance and stability, two vital skills, because the equipment is doing this work for you. There is no better way to train "the core" (which is much more then than the abdominal and lower back muscles) than to perform GBCMs;
Squats
Lunges
Standing military (overhead) presses
Push-ups
Pull-ups
Dead lift
Explosive lifts
Take an exercise machine and there's a free-weight/GBCM exercise equivalent that is superior.
In effect, balance and stability gets worse from using machines. The older we get, the more our nervous system deteriorates thanks to the inevitable aging process, the more we need to stay away from machines and "get into" GBCMs.  Trainers defend their use of machines along the lines of, "Mrs. Jones' balance is so bad/back is so weak/range of motion is so diminished that she needs to work in a machine so she can regain some function." Incorrect!
Machines avoid strengthening the weaknesses by taking them out of the equation. The person with bad balance who uses a hamstring curl machine instead of modified split squats or lunges, uses the leg press instead of body weight squats or military press machine instead of performing the lift standing with dumbbells, is not addressing their needs.
Athletes who use machines can't improve performance and are training in a manner that impedes progress. Athletes never compete in a seated position (except for rowers!) and work in all planes of movement; machines cannot provide the proper training environment for athletes or weekend warriors.
Your personal trainer doesn't know what they're doing if they have you using exercise machines.
I'd like to thank MsFitOnline for allowing my "Biggest Loser" video blog (Vlog) entry to appear on her site.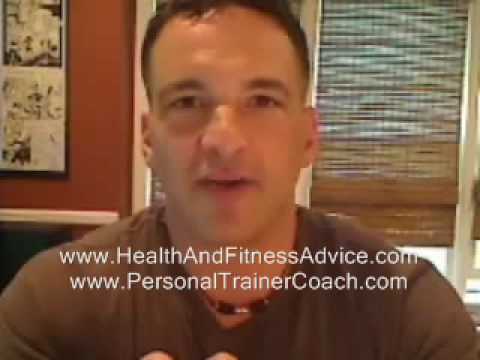 MizFitOnline is one of the most influential fitness bloggers on the Internet and last week I was lucky enough to have her appear as a guest video blogger on HealthAndFitnessAdvice.com.
In what can be filed under the heading of, "One Good Turn Deserves Another," MizFitOnline was good enough to feature my video blog on the problems that I have with "The Biggest Loser" on her site, MizFitOnline.com.
Regular readers to the site know that I think "The Biggest Loser" represents all that is bad with the fitness business and how personal trainers are portrayed.  Check it out.